NCLR (National Council of La Raza) presented the 2012 Affiliate of the Year Award to AAMA at the Awards Gala on July 10 at the 2012 NCLR Annual Conference in Las Vegas, Nev.

"As one of the largest and best-run nonprofits in the country, AAMA has served as a model and mentor to many other community-based organizations in the NCLR Affiliate Network," said Janet Murguía, President and CEO, NCLR. "As an active, committed participant in NCLR's advocacy initiatives at the local and national level, AAMA has been one of our most engaged and dedicated allies. And our ongoing partnership in programs such as education and leadership development has helped expand NCLR's reach into the Texas Latino community."

The
Affiliate of the Year
Award, sponsored by Ford Motor Company Fund, is the highest honor bestowed on an NCLR Affiliate for exemplary nonprofit management, service to its community, and active engagement in and promotion of NCLR's programmatic and advocacy initiatives.

"At Ford we are committed not only to a thriving and successful company, but also to thriving and successful communities. This is why we are proud to support the NCLR Affiliate of the Year Award," said Joedis Avila, community outreach manager, Ford Motor Company Fund and Community Services. "We trust that our support will help AAMA and the rest of the regional winners continue their hard work serving their communities and making a difference in the lives of Latinos."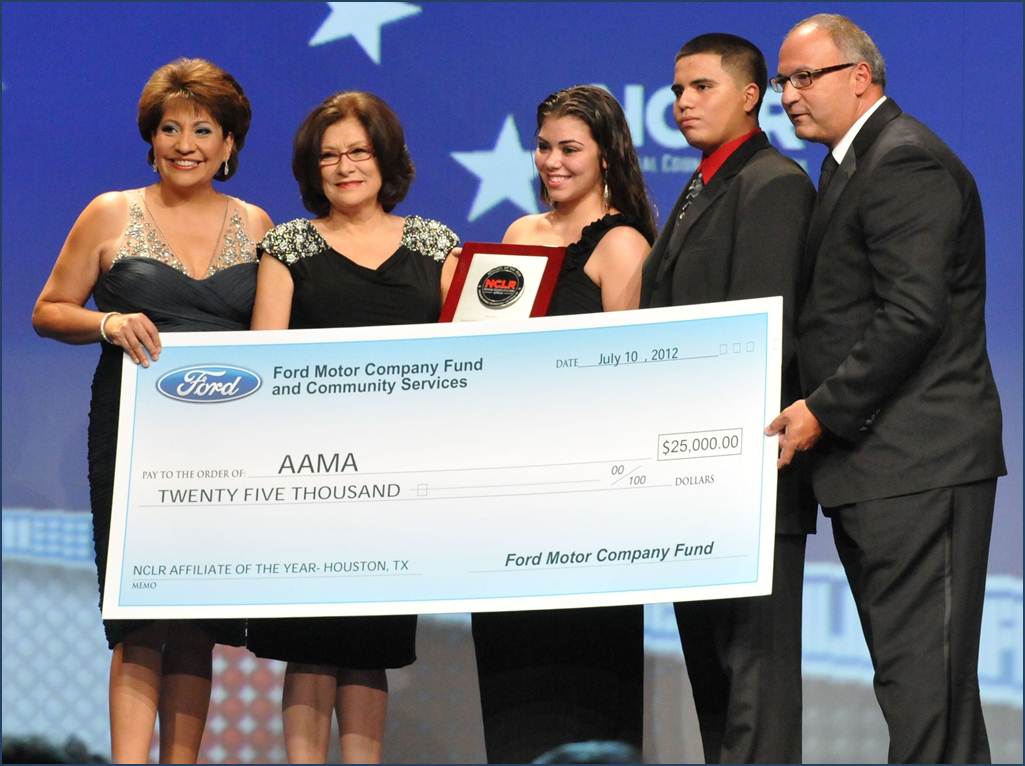 Pictured left to right: Janet Murguía, President and CEO of NCLR; Beatrice Garza, President and CEO
of AAMA; Daisy Garcia, Sanchez Charter School student; Genaro Llave, Sanchez Charter School student;
Jim Vella, President, Ford Motor Company Fund and Community Services.

AAMA President and CEO Beatrice Garza accepted the award and the accompanying $25,000 check along with two students from AAMA's Sanchez Charter School who attended the conference as part of NCLR's Líderes program.
"I am honored and humbled to accept this award on behalf of AAMA and all of those who work so hard to make a difference in the lives of the people we serve," Garza said. "NCLR's recognition of what we have achieved so far – along with Ford's generous grant – will lift and inspire us to continue the story begun by our founders 42 years ago. We know that our story will not be complete until our entire community can participate fully in the American Dream."

For more information about AAMA, please visit www.aama.org.

NCLR—the largest national Hispanic civil rights and advocacy organization in the United States—works to improve opportunities for Hispanic Americans.